Rural Cottage, Mayo

Stage: Initial Design, Completion: 2012
The project is to upgrade an existing cottage near Charlestown in Co. Mayo. The original cottage consisted of a rectangular single room plan. The cottage was originally refurbished and extended in the late 90's with the addition of 2 new bedrooms, a large bathroom and small study space. The existing stone house and extension constructed in cavity blocks, now requires upgrading in order to improve the thermal comfort in the house. Due to the small windows and thick walls of the existing house, the main internal living space does not get much natural light. The brief therefore also includes looking at clever ways of introducing as much natural light as possible to the house, without compromising the character of the existing dwelling.
The initial exercise consisted of an analysis of the orientation of the existing house with a view to understanding how the main spaces within the house relate to the sun as it moves through the sky throughout the day.
The front elevation of the original cottage dwelling benefits from the most desirable south / south-west orientation, but also gives the cottage its quaint character.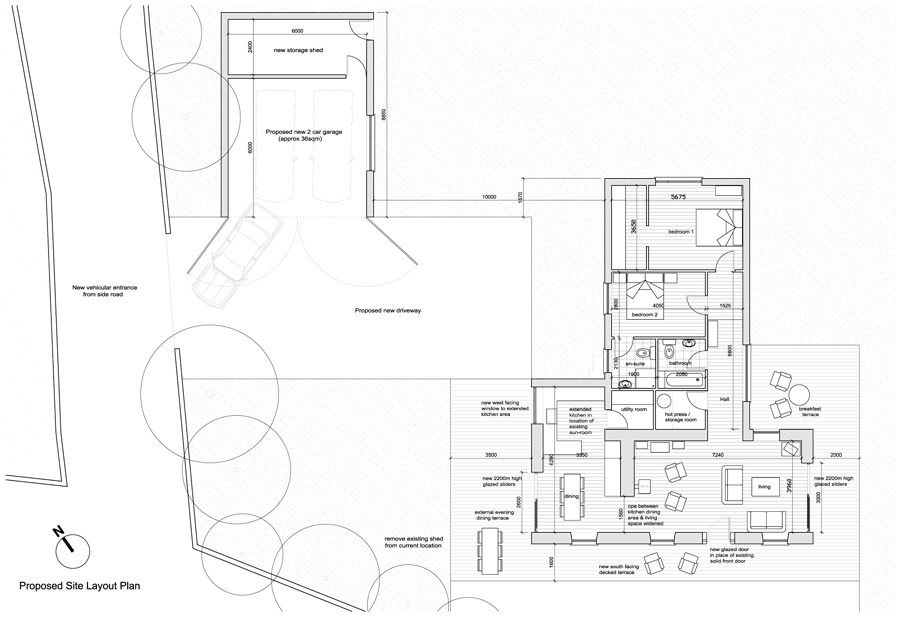 As an initial approach we proposed a number of small moves which would greatly improve the quality of the existing spaces within the original cottage and the existing extension. In contrast to the current spaces which are largely deprived of natural light due to the small sizes of the original windows, the moves would result in these same spaces becoming the bright, light, airy spaces the client is looking for. These moves generally consist of introducing glazed roof windows and glazed sliding and fixed screens, widening existing openings and reconfiguring some internal walls. The most significant change consists of replacing the existing sunroom with a modest west facing extension of the kitchen space.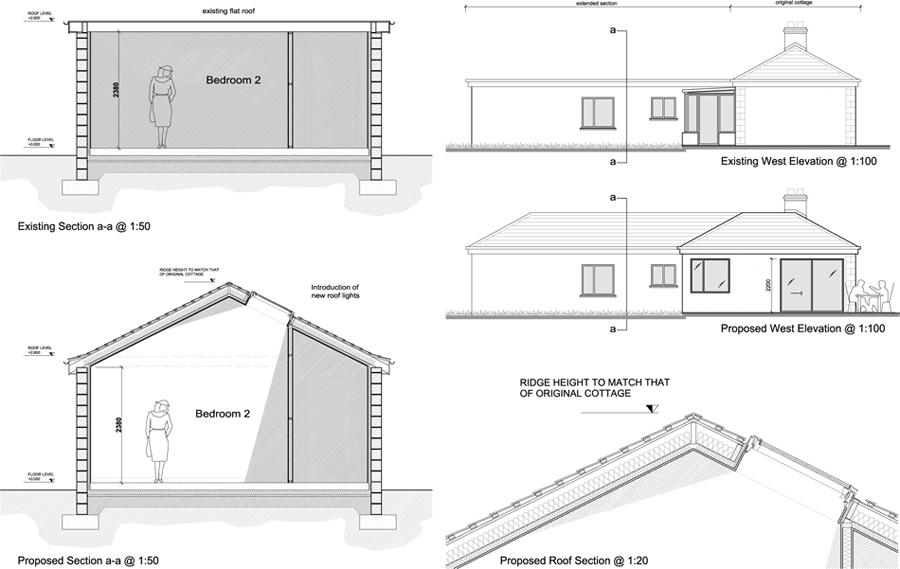 In relation to the thermal performance and sustainable technologies, it is proposed to re-roof the existing extension and whilst doing so, dramatically improving the standard of insulation in the new roof. Some of the external walls in the existing extension will also be internally insulated. Solar panels may also be introduced to the new roof of the extension providing solar hot water. A rain water harvesting system may also be installed, to collect rainwater for use externally in the garden.
The below image is a computer generated view of the new south-east facing slider to the reconfigured living room space in the existing cottage. The image begins to help to describe how the introduction of the new glazed sliding screens will not only provide the original cottage with much needed natural light, but will also connect the internal spaces with the surrounding countryside.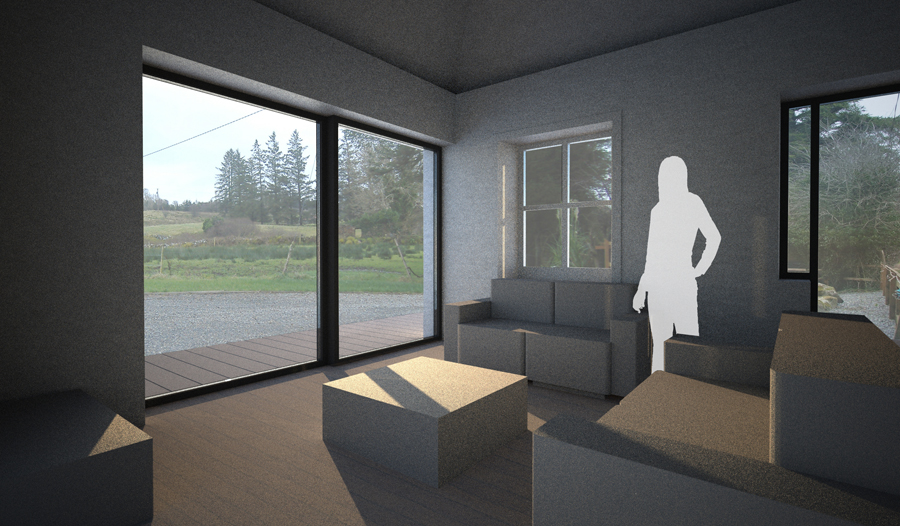 You can follow any responses to this entry through the RSS feed. You can leave a response, or trackback from your own site.