"Like a stone in the landscape"… Angular home in the Swiss Alps
Clad in mottled grey tiles, the house sits on the edge of a slope above a valley 'like a stone in the landscape'.  Surrounded by cattle-grazing pastures and vineyards, its six-sided roof is angled to match the incline of the mountains and a glass curtain wall on its south side gives views over the valley.  The house, designed by Milanese firm JM Architecture has a jagged form and colouring that were devised by the architect to help the home settle into its mountainous terrain.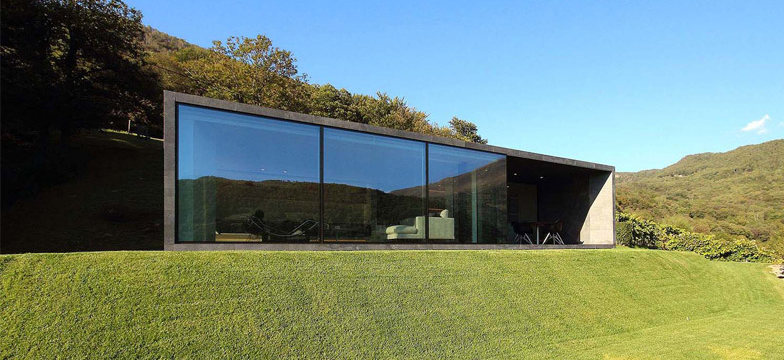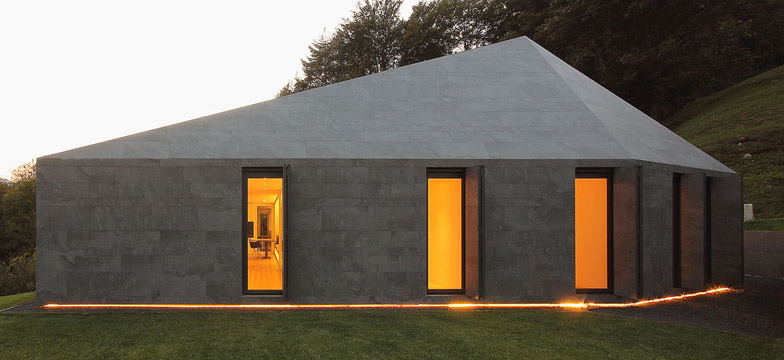 The local building code stipulates that each house must have a dark grey pitched roof for a better integration with the environment.  The architect took this constraint and developed the idea into an homogeneous solution using the same material for both the roof and the facades, giving the building a monolithic quality.  The house is made from prefabricated timber elements chosen to help insulate it from the region's cold winters. Over 20 centimetres of insulation within the walls and roof is coupled with underfloor heating to create a warm and comfortable environment in even the coldest winter weather.  The entire structure is clad in rows of grey porcelain tiles to create a "pure and simple form".  The edges of the tiles are cut at an angle to allow them to slot together and create a flush surface.  A strip of light around the base of the house differentiates it from the patch of grey gravel on which it sits.  Folding shutters are covered in the same material, which align with the facade pattern when closed to create a uniform appearance.
Take a look at the plan and some of the architectural drawings here …
You can follow any responses to this entry through the RSS feed. You can leave a response, or trackback from your own site.