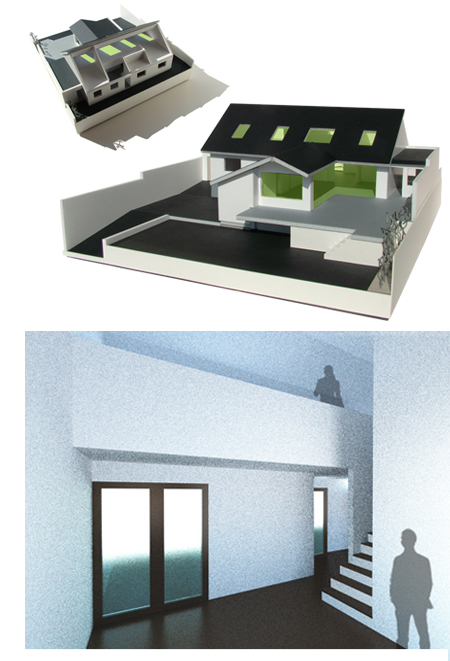 As noted in our previous blog post, the main area of focus in this project is to significantly improve the thermal performance of the house.  However, in order to achieve this, the scale of the work involved will provide an opportunity to significantly alter and improve the design of existing house both internally and externally.
There will be a number of key moves and interventions which will transform the previously:
–  the existing truss roof will be deconstructed and replaced with a new 'cut roof'.  The new roof structure will provide an opportunity to introduce a generous double height entrance space in what was previously a dark and unwelcoming entrance hall. The positioning of 4 large south facing roof lights above will mean that light from the south will flood the north facing entrance hall at ground floor for the first time.
– The original separate living, kitchen and dining rooms will be replaced with a new contemporary open plan living space.
– A large south facing section of the rear wall of the house will be removed and replaced with 2 large glazed sliding screens.  These screens will have the dual effect of flooding the previously small and dark spaces with light whilst also bringing the breathtaking views of the surrounding countryside deep into the heart of the new living space.  These sliding screens will open out onto a new large external deck area to the rear.
– 7 large south facing roof windows will be introduced bringing light into the new first floor spaces and the new entrance space.
– A separate 'snug' living space will be introduced at 1st floor, again taking advantage of the views of the surrounding country side through the 4no. large centre pivot roof windows which will be positioned together.